Best Tulsa Vehicle Wraps- Color Change 101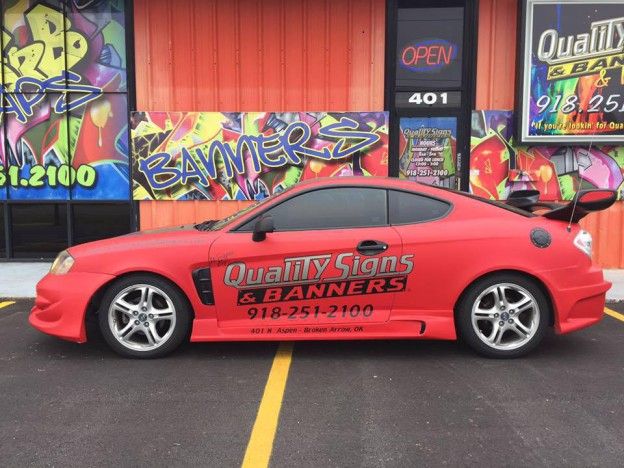 Best Tulsa Vehicle Wraps- Color Change 101
Best Tulsa Vehicle Wraps- The business for vehicle wraps is forever changing and growing. Since this is great advertising for business, you can choose for color change that will protect your vehicle paint and refurbish an older car's appearance.
History of Color Change
Color change wraps have known to vary over time with matte black vinyl wraps to satin vehicle wraps. As for the matte black vinyl wrap, the matte black appearance was a process with having to place a laminate top coat on top of the initial black paint. The matte finish was very popular for a while. The satin vehicle wraps were to replicate the metallic appearance by using colors such as white, black and reds. After a while, the satin wraps became so popular the color choices expanded to anything favored.
Fast Forward—Today
With color change growing, it had to have an easier process to develop and apply. Using a car wrap vinyl that has premade color choices and textures was the route. As of today there is about 200 colors and textures to choose from that can create your car to have a brushed aluminum, matte metallic or some color of chrome effect. If your company represents bright and an unusual color scheme, the best Tulsa vehicle wraps can transform your vehicle or company car today!
What's the Purpose?
Most questions derive from, "What's the purpose?" or "Why would you want to change the color of your vehicle?" The two main factors as to why people choose to get their changed is that it's cool and creates a new car feel.
The cool factor relates to who all will see your car. There are endless possibilities of customization, especially for local businesses to advertise, that you can create something that's unique and one-of-a-kind. Look cool driving down 169 or the BA.
As for creating a new car feel, the new paint job might keep you from purchasing a new car. Having a wrap on your car also protects the outer shell and original paint job. A color change will allow for something new and refreshing!
With the best Tulsa vehicle wraps experience and installation of the vinyl wrap, your color change will be seamlessly flawless.
Are you wanting a color change for your personal car or company car? Contact us today!
Connect with Quality Signs and Banners on Facebook and Twitter to learn more about our vinyl wraps to help your business or give your current car a facelift!