Tulsa Vinyl Vehicle Graphics- Creative Graphics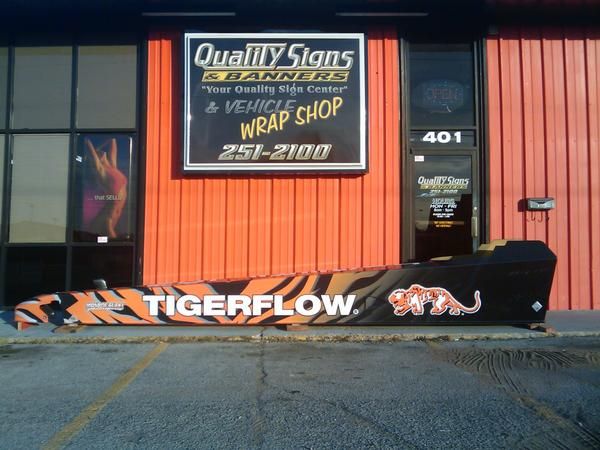 Tulsa Vinyl Vehicle Graphics- Creative Graphics
Tulsa Vinyl Vehicle Graphics- Have you ever saw a bus go by and see a cool graphic that wraps around the vehicle and think who designs and makes those?
Well a good answer to that in the Tulsa metro area is Quality Signs and Banners. The business has been around for over a decade and has provided full service with a smile to customers all over the Tulsa area who continue to come back to Quality Signs and Banners for their project need. Whether you're in need of a friendly sign for a celebration or sponsorship banner for an event, these vinyl banners will create what you're searching for.
The family-like customer service will help some of that stress melt away as you see their professionals take hold of your project like a baby and provide quality services from start to finish.
You can be involved at whatever level you need, if you want updates or voice your opinions you can or you can trust in their trained team to take and complete your project.
They can help anyone, whether they are starting up a new business or give their current business a makeover, the folks at Quality Signs and Banners can help with that.
They can also help to design a logo and then make signs or slap your new logo on an ATV or motorcycle or maybe just the helmets. They provide real estate and yard signs in order to create commotion outside of the home or building. These signs can assist with selling the home or help display that it is sold. Quality Signs and Banners can create an open house yard sign too.
They also offer several styles of vinyl and vehicle graphics. They provide vinyl vehicle graphic four your truck and is great way to get some advertising on your own vehicles as they drive around doing their job or just eating fast food. They also provide vehicle wrap which will also help in your advertising needs and has a life span of five years and are easily removable. They also provide interior vinyls and can be applied to walls and glass. The vinyls are good for advertising as well as labeling doors and areas.
Quality Signs and Banners is located at 401 North Aspen Broken Arrow, OK. You can contact  Quality Signs and Banners online  or call (918) 251-2100.
Connect with Tulsa Vinyl Vehicle Graphics on Facebook and Twitter for more information on our services, along with tips on how to use your quality signs and banners.