Quality Signs-Monster Jam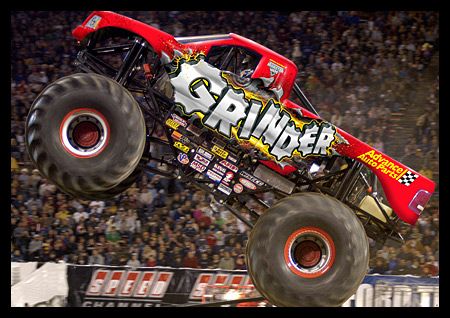 Quality Signs-Monster Jam
Quality Signs and Banners loves cars, do you?
Quality Signs of Tulsa wants everyone to know that Tulsa  welcoming Monster Jam to the BOK Center the beginning of March. Monster Jam will have a two-day show starting March 7-8. This is an event for all ages to enjoy. Who doesn't like watching huge, monstrous trucks fly in the air and smashing on top of smaller cars?
Monster Jam is a family-friendly experience that brings in some of the most talented performers on four wheels. Monster trucks are what make this show an experience not to forget. These four wheeled monsters are about twelve-feet-tall and weigh up to 10,000 pounds. This show will have you sitting on the edge of your seat while watching these monsters tear up the track full of obstacles.
The obstacles on the course are meant to bring suspense. The monster trucks will do flips over them, soar over them and even smash into them. This is what suspense feels like because you'll never know what these monsters will do next.
This is a kids dream to see big trucks smash into other trucks, while doing tricks as well. As a kid they play with monster trucks, but with the toy size. Kids love watching their monster trucks that they play with in the dirt on larger scale. Their imagination will come to life when attending Monster Jam.
Some of the special tricks that they perform are at high speeds. The performance is run on a dirt track with different dirt mounds and ramps. The monster truck drivers are able to do wheelies on the back two tires and side wheelies on the two side tires. Back flips and donuts are also performed by these drivers.
Every monster truck is designed to display its own personality. Some of the monster trucks have skulls and others may have horns coming out of the head of the truck. Each design is personalized to each truck and its owner. These drivers are fierce and are hungry for defeat. You'd think men are the only ones interested, but you should think again. Monster Jam has women drivers who are hungry for a fight. One of the women who became Monster Jam's first woman to compete is Becky McDonough. She drives for the Team El Toro Loco. The monster truck resembles who they want to be known as when in that dirt rink.
There are over one hundred drivers involved in Monster Jam. Between these drivers, there are eight teams that compete in Monster Jam. They are Team El Toro Loco, Team Blue Thunder, Team Monster Energy, Team Max-D, Team Scooby-Doo, Team NEA Police, Team Monster Mutt Rottweiler and Team Grave Digger.
Times for the Monster Jam will be Saturday, March 7 at 7:30 PM and Sunday, March 8 at 3:00 PM. Costs vary depending on age and where you sit. Pre-sale tickets include Gold Circle for $35, P2- $30 Adults/ $10 Kids (ages 2-12) and P3- $25 Adults/ $10 Kids (ages 2-12).
Monster trucks with hair, spikes, eyeballs, Mohawks and flames will come to life in the front of your eyes.
Thanks for visiting with Quality Sign and Banners! Visit our Facebook and Twitter for more information on car wrapping and printing.